We've been talking a lot about the mobile channel lately…and with good reason.  As we mentioned in an earlier post, smartphone adoption is going through the roof and marketers are working hard to get on board.  Smartphone users are using their devices to locate restaurants and stores.  They're researching products and comparing brands and prices while they're standing on the retailer's floor.  A growing number are even opting to make online purchases directly from their phones, ushering in the age of mobile commerce.  You may be wondering what else anyone could possibly want?  Well, how about mobile payment?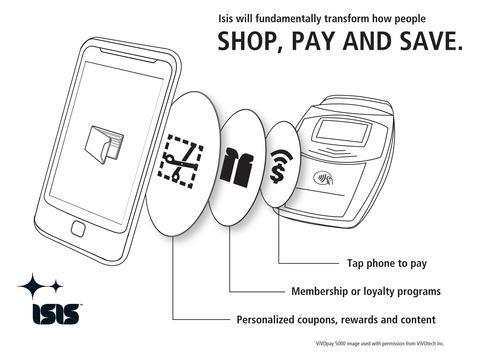 In November, 2010 T-Mobile, AT&T, and Verizon announced that they were teaming up to bring the Isis mobile wallet system to the USA.  The system uses Nearfield Communication (NFC) technology that allows people to use their smartphone as a form of payment, as an alternative to cash or credit cards.
At the time of the announcement, Michael Abbott, the CEO of Isis, said:
"Our mobile commerce network, through relationships with merchants, will provide an enhanced, more convenient, more personalized shopping experience for consumers. While mobile payments will be at the core of our offering, it is only the start. We plan to create a mobile wallet that ultimately eliminates the need for consumers to carry cash, credit and debit cards, reward cards, coupons, tickets and transit passes."
Deutsche Telekom, the parent of T-Mobile announced recently at the World Mobile Congress that the program was on track and that T-Mobile would begin offering Isis-capable smartphones in the US in 2011.  The press release goes on to say that:
"…customers will in future only have to hold their cell phone to an appropriate reader in order to pay for goods, buy tickets for events or regional transport or take part in bonus programs. A new technology – Nearfield Communication (NFC) – is making this possible. As a result, no change at ticket machines and defective magnetic strips on cards will be a thing of the past. The area of payment systems is an important growth driver for Deutsche Telekom and the company will continue to expand it internationally."
Google is also getting in on the act. According to a recent Wall Street Journal article, the firm is partnering with Mastercard and Citigroup to leverage mobile payment via its Android devices.  Thinking beyond software, Google is also partnering with VeriFone Systems, a maker of point-of-sale (POS) systems, to provide terminals that can accept traditional credit cards as well as NFC enabled devices.
The market for mobile payments is expected to grow significantly in the next several years, reaching $618 billion by 2016, according to a report by consulting firm Edgar, Dunn & Co. and sponsored by MasterCard.
With this much industry push, it's likely the program will succeed.  The question for retailers and their suppliers, is how to prepare?  Some retail POS systems already use NFC  to accept certain credit cards embedded with the technology.  Customers with these smart debit or credit cards can wave their card near the terminal instead of swiping it.
A report issued this month by the Federal Reserve cited industry estimates that there were 70 million contact-less devices, including credit and debit cards, and 150,000 contact-less readers installed by merchants in the U.S.
Most small to medium-sized retailers, however will probably need to upgrade the hardware and software that make up their retail POS system.  If the system works as advertised, retailers should see quick returns on their investment in IT.  Automation will likely reduce the retailer's labor cost and the time it takes to complete each transaction.
Beyond the terminal, retailers will have to determine how the technology will affect their point-of-purchase and online marketing efforts.  In a follow-up article, we'll review the tactics involved with marketing a mobile payment system and take a deeper look at some other considerations including mobile marketing, data collection and privacy.
At IM Interactive, we're focused on leveraging tomorrow's technology, today. We're working with retailers and CPG clients to blend the best of e-commerce and mobile technology with traditional, in-store marketing. We're building new solutions that allow retailers to connect with consumers like never before. These tools are helping retailers build market share, foster loyalty, and discourage competition. If you're interested in hearing more, CONTACT US TODAY. We'll begin by consulting with your team to provide solutions that get results.
It's time you connect with IM Interactive!